CALLEN


Second Chance #3
Author: Kemmie Michaels
Genre: adult erotic romantic suspense
Cover Design: Robin Ludwig designs
Hosted by: Francessca's Romance Reviews



Synopsis:






Violence shaped Callen Reed's childhood. Special Forces forged his adulthood. When the woman he loves is murdered, revenge should be both simple and necessary. Love, however, opened his heart once, and may also have the potential to save him from the darkness of his grief.

The world lays both love and revenge at his feet. His choice, his consequences.

Add To Goodreads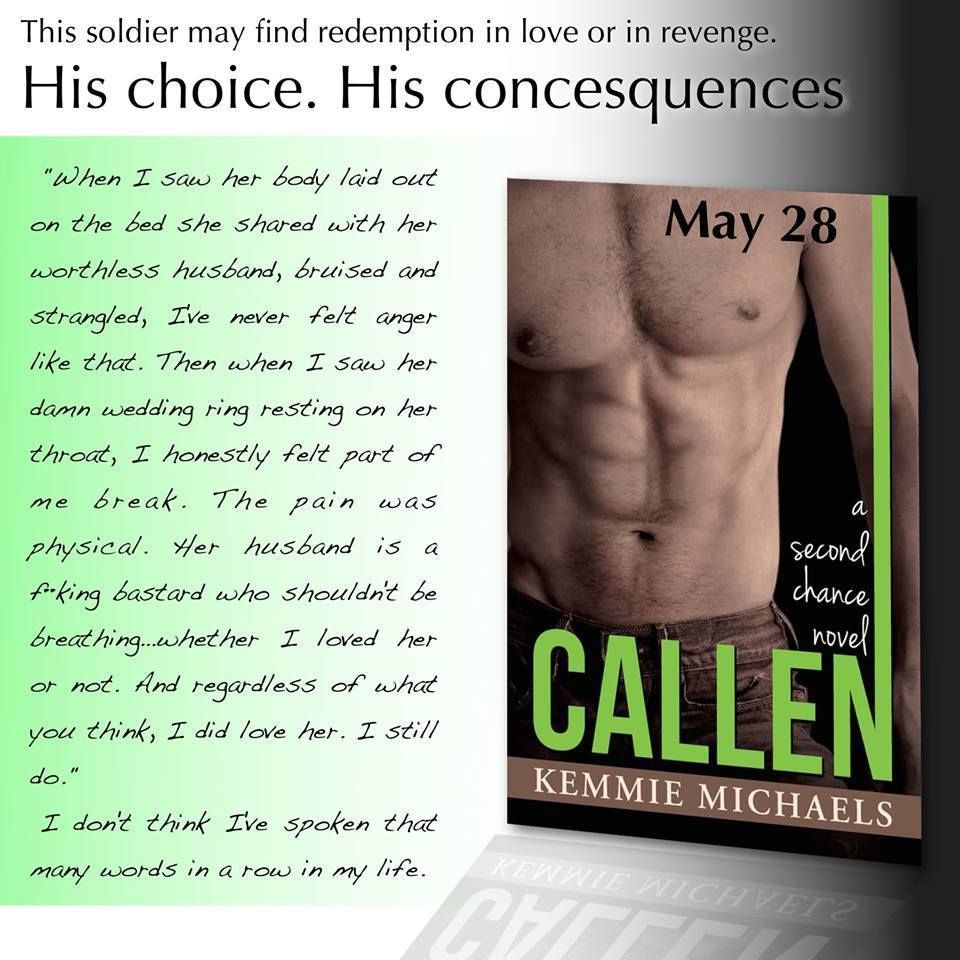 Excerpt:



Before I can respond, his mouth covers mine solidly. The teasing, testing motions of his body from the past hours crumble. The intensity between us has me spinning, and the sensation of his steel cock entering me erases the rest of the world, blocking out my need to comprehend his state of mind. As he observed, my emotions and physical response to him are complicated. He demonstrates his understanding by offering slow, gentle caresses along my curves which build into heavy, desperate, grips along my entire form. His knowledge goes far beyond my physical needs. His eyes meet mine every time I need the connection. He takes a moment to hold my hand when my emotions overwhelm me. He kisses my neck with passion, and kisses my knuckles with romance. Then, when emotion gives way to carnal need, he takes my body higher, faster, and harder, only to gently hold me together so I don't fall apart from the crushing power. More and more time passes as he takes my mind, body and soul into a molten, pliable form which belongs only to him. He brings me to orgasm twice as he spends untold minutes making love to me. I wish I could figure out how to speak, but my eyes alone seem to find the way to communicate. Answering my unspoken words, he murmurs to me, "I already know." With no more words between us, Callen eases his body into mine again, and begins making love to me in a display of passion more pure and bright than anything I've ever known. The slow, subtle movement of his hips urges the smoldering heat in my body to flame. He holds my gaze while he moves with me. His fingertips trace wispy lines along my shoulders and neck while he watches me softly with undeniable love in his eyes. One tear escapes my eyelashes, pushed out to make room for the overwhelming emotion roiling inside me. He brushes his thumb across the tear and continues loving me in every way possible. When he brings me to the brink again, one final time, I lay below him in awe, in love, and wondering how I earned the privilege of owning his heart. We lie together, now holding tightly in our embrace. I'm near weeping at the sensation of bringing my body and my mind in sync more powerfully than ever. I never imagined love could be this amazing. Before Callen, I experienced love through the filter of clinical analysis. Occasionally I learned twisted ideas of love through the rants of violent criminals. But this…this is full-bodied bliss, wrapped in deep emotion and physical perfection. "I love you," Callen whispers as he tucks me against his chest tightly. "And now you see," he says, adding a tinge of sadness to his voice. An unease settles into me at his tone. I have yet to speak a word to him, and words continue to fail me. "You see who I really am," he says quietly. "I learn, I assess, I manipulate. I do what's needed...what I want. I take my advantage." Both fear and anger filter into my thoughts as I stare at him in disbelief. I say an internal prayer I'm misunderstanding his words.


Purchase Links:
Amazon UK
Amazon US
This is another great book in this wonderful series. It is full of drama, humor, suspense and romance. Callen is such a damaged man who is consumed with the need for revenge. All he wants is to kill the men responsible for the murder of Evvie. He is set on this course and found himself unwillingly attracted to Quinn, a woman who can see the real him. Quinn sees evil all the time, being a prison psychologist, and she sees the Callen is not all he appears to be and she is hesitant to dig too deep but can't seem to help herself. Callen and Quinn's relationship slowly builds but there are many obstacles in their path that could tear the burgeoning romance apart.
I tried to read this book without reading the first two books in the series and HIGHLY recommend readers do not! To really enjoy and understand this story, you NEED to read Ledger and Mason. Thankfully I did have those two stories so I stopped reading this and as soon as I read them, this book made so much more sense. This is a third part of literally one long continuous storyline, though each book features and different character. Well written and an emotional roller coaster ride from the first page to the last page. An awesome 5 star book! ~Booklover Sue
About The Author:
Mother of Two Boys...
My husband and I have been married for 17 years and are blessed with two amazing young men. They are 10 and 12 right now, and both are on very different parts of the autism spectrum. I've learned so much being their mom and I feel pretty lucky to have become part of a community of loving, understanding people.
If you'd like to meet my oldest son, watch Big Bang Theory and shake hands with Sheldon. Those two are so similar, straight down to the fake laugh when they recognize something is funny.
My youngest cannot be explained. He's more of an experience, and a joyful one at that.
Romance Novelist...
I've always loved to write. I've written for newspapers and magazines, also a host of personal projects. Then in December of 2012 I was reading on my first Kindle, gobbling up romances left and right. That's when I fell in love with Ethan Blackstone, by the way.
I was inspired to sit down and write. Less than one year later I've published three books, written another and its sequel novella, and started on two more. Another series popped into my head, as well. Now as of August of 2014, I'm on the verge of publishing book six, with at least five started or specifically planned. Since I'm sure I won't update this bio for a long time, you'll have to rely on my Facebook updates to know what's going on with Kemmie Michaels romances. You can also subscribe to my newsletter for releases, covers, sales, and other news.
...and I LOVE coffee.
Stalk Kemmie:
Goodreads

Facebook
Website
Amazon
Twitter